At my wedding, I will be seven months pregnant. It hasn't been easy finding dresses that don't look like frumpy messes or pajamas.

Any other brides in this situation? And any ideas on where to look?
Aw, this is a question that is close to my heart since my sister was an adorable preggo bride. Of course, like her big sis, she had herself an offbeat wedding. At her Forth of July BBQ wedding, she rocked an adorable little white dress and coverlet that she got off the rack!
So, I've put together this roundup of other pregnant bride fashions — some are available to purchase with a click, some are just for inspiration's sake, and none of which shall make you look like a frumpy mess.

THIS ONE is my favorite. Vintage style like WHOA on this one. And, oh, I just want to take that fabric and make things out of it — maybe a baby blanket or a crib lining?
Holy crap. I think this one is the most ornate maternity wedding gown I have featured here. Wowza.
Here's a fabulous option for those that don't want white, nor bright colors.
This one is amazing. Look like a fairy — a gorgeous pregnant fairy — on your wedding day.
Wow, look at the hem on this dress — I love it!
With the gorgeous floral detailing on the one strap, NO ONE will mistake this heavenly gown for pajamas.
This dress has structure and style and right now, it's only $150! Wow.
Of course it's not always A-line dresses that get the preggo love. How great is this curve hugging (celebrating!) dress?
Since I can't tell you where that curve hugging dress came from, I offer up this dress which is similar in color and tummy celebrating lines.
This Olian Bridal empire waist gown has this gorgeous satin sash and I'm in LOVE with the lace top. It's simple but miles away from frump-town.
Here's one for the fearless summer bride. The combination of the vibrant fabric of the skirt and the knit top gives it a chic touch without compromising comfort. And the straps can be worn in two ways.
This model's all, "What!? A short maternity wedding dress that seeks out some attention, el scandalo!"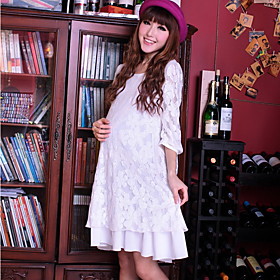 Here's another short dress option that has a vintage feel. OMG,
I die of the adorableness
.
Unique Vintage is another great place to get a maternity dress, because, when you order your dress, you get to input custom measurements, so you can ask for a dress with a lot more room in the belly. And I think this vintage-style Sue Wong beaded ruffle dress would make a STUNNING maternity dress.
Hope I've helped you some on your awesome maternity dress search. And if I've indeed helped you find your perfect dress, you can easily thank me by naming your child after me.