My fiance and I are planning a beautiful, private ceremony in a park. I picked out a beautiful, strapless silk-chiffon dress that is flowy and delicate and I love it. However, we're getting married in December, and the ceremony is going to take place outside.

Any ideas on how I can stay warm during the ceremony and still show off my pretty dress?

-Raina
Since the weather has turned cold (yay Fall!) I think it's the perfect time to look into options that'll keep you warm on your winter wedding day. I've got things that'll keep you warm from head to toe, and please almost every style and wedding theme. So grab a cup of coffee, get comfy under a blanket, and let's go virtual shopping!
Shawls
White faux-fur shawls are a super stylish option.

Here's a warm and fuzzy faux mink shawl and it comes in white, ivory, black or brown. Love me some options.
Capes
Here's a more open-style white faux-fur capulet. This should show off more of your dress, but keep your shoulders and back all cozy.
OMG, I want this satin-lined half cape with a hood, just because! This review in particular made me think it'd be great for a wedding: "This was perfect for my March wedding. Wore it for outdoor pictures and it was just lovely — complimented my ivory and light pink dress perfectly."
This cape will keep you very warm and feeling wonderfully romantic. It's a long, hooded cloak, made from an ivory velvet and then lined in a matching ivory-colored satin. Perfect for a Medieval Renaissance wedding!
Gloves and sleeves
If you're gonna go with gloves, there's nothing more convenient than fingerless, if your'e doing a ring exchange. Plus dig the fur on these babies!

Lindsay wore these amazing arm warmers from Vaisto Clothing on Etsy. I love love LOVE these babies. If you want more colors and/or sparkles, these arm/leg warmers from KD Dance offer a lot of options.
Boleros and shrugs
These Disco-inspired all-over sequin shrug jackets are freaking gorgeous and wedding-ready.
Here's a gorgeous white lace bolero from Angelica Liv Couture
Hot from Hollywood has nailed it with this adorable bolero. According to reviews the fit is amazing and it comes in nine different colors.
Long veils
An incredibly long chapel or cathedral length veil, like this one from Honeycomb Veils
could help insulate some body heat while adding some oomph to your wedding outfit.
Jackets
This long bridal jacket isn't going to help you show off your dress, but it WILL be a phenomenal addition to your outfit.
This white structured coat with the bow detail is blowing my mind.
What about a little leather jacket action for my bad-ass brides?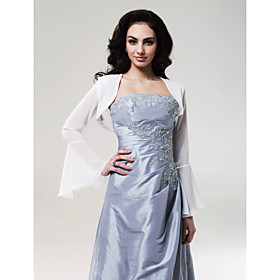 Here's another version of the sheer cover, but with more of a fairy-style sleeve.
Headdresses
Headdresses from offbeat sponsor Plumed Serpent
are PERFECT for winter weddings.
How adorable could super warm knit hats be on a winter bride? I'd die of the overwhelming cute.
How this awesome sparkly head band? Warm and sweet.
Fuzzy ear muffs in a variety of colors! This way you won't have to hide your fancy hair, but your ears will still stay warm.
Muffs

Finally, muffs! Because, as Ariel once said, who doesn't love muff jokes at a wedding?
So, lay 'em on me guys — any particular favorites or more suggestions for keeping warm at your wedding? Put 'em in the comments.
This post features Offbeat Vendors! Check out their vendor listing to see how they cater to Offbeat Brides: