While Offbeat Brides don't always follow the wedding conventions, I do notice that lots of offbeat proposals happen during the traditional time between Thanksgiving and New Years. People like getting engaged during the holidays for all sorts of reasons — things already feel special, families are all assembled for the easy telling, it's a dark time of year that can use some extra light, you're thinking about new beginnings with solistice and new years, etc.
That in mind, I thought fall would be the right time to take a look at some of my very favorite offbeat engagement rings, giving you plenty of time to order your bling and scheme your proposal. Now, of course you don't need an engagement ring (we've featured lots of non-ring alternatives) but if you're into a little bling, I'm here to help. Oh and I'm including both women's AND men's rings, cuz I know that some of you ladies like proposing your mens!

As always with posts like this, CLICK THE PICTURES to learn more about a product!
Diamonds: ethical, black, and otherwise!
These rings are on the more traditional/diamond-y end of the spectrum, which means they can be more expensive.

This 18K White Gold Art Deco Filigree Diamond Ring from Brilliant Earth is a diamond you can feel really and truly awesome about. There's a reason both Megan and I wear Brilliant Earth rings — they simply rock the non-blood diamonds like no one else. They're an amazing company, and they've got insanely awesome designs, like this Deco engagement ring.
It's a diamond. But it's black. LIKE MY HEART.

I just call this one "Vintage-banging hotness." Love the round setting. Love the antique design. Love that it's less than $900.

Non-diamond rings: Rubies, sapphires, topaz, and MORE!
You have to be careful with colored stones because sometimes they're not great for longterm daily wear (they can be prone to chips!), but there are still some great options out there…

Rubies are red, tanzanite is blue, this ruby ring costs less than $500 and has awesome vintage detailing, I love you.

Purty garnet in white gold. less than $200! Double aww.

Did you even know yellow sapphires existed? Now you do.

Vintage blue blue sapphire engagement rings with diamond accents. Be still our sapphire-loving hearts.

Ooh, it's blue topaz. Ooh, it's big. Ooh, it's very, very affordable.

Tanzanite is that kind of blue that makes you want to go sailing or explore space or something. It's not just blue, it's like BRAIN-BLOWING BLUE.

This amethyst is all "Yeah, I could STOMP a 2 carat diamond in my sleep. Look into my purple eye. You are powerless against me. You love me. I am less than $500!"

Repeat after me: PINK TOURMALINE! Awesome square cut. Love!

I like my rings like I like my heart — BLACK AND OMINOUS. (And less than $460.)
Masculine rings
Tungstun! Titanium! Trees! Threes! For those who want to get down on one knee and propose to their male or masculine-identified partner.


I love the simplicity of this black Tungsten Carbide ring. The grooves give it a modern twist, and Tungsten Carbide is an awesome material — denser than steel or titanium! It's also super affordable: this ring's only $40!

EVERYONE loves Brent & Jess's rings custom-made with the finger-print of your beloved. We featured 'em on Offbeat Bride a few months ago and shit went crazy viral. No wonder why — they're awesome.

This stainless steel screw ring is so cheap that it's clearly not meant for a lifetime of wear, but it's a cute way to say "Let's screw for the rest of our lives!" Aww.
Ooh, the TALON RING. It wants to marry you, and then maybe eat you for dinner?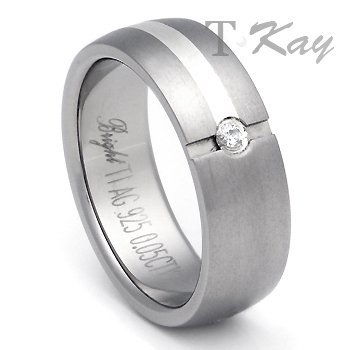 Who says only girls want engagement rings with bling? This titanium ring features little diamonds for that masculine bling action, and the asymmetrical silver inlay is hawt. Plus, it's less than $60.
[related-post align="center"]
Ok, ok. So what did we miss? We know we missed something!
Share links to your awesome engagement ring findings in the comments!