Part of being an offbeat bride is knowing that you don't HAVE to get your dress from a bridal boutique or a chain store and that it doesn't have to cost eleventy-thousand dollars. So to help you on your affordably offbeat dress hunt, here are 13 wedding dress options under $100…
[As always, click on the photos to learn more about a particular dress]
The Ice Falls dress from ModCloth is not for the faint of heart with it's raised-hem skirt that dips to floor-length in back. How show stopping would this dress be though? And all that drama for $60!
Would this not make the PERFECT little courthouse wedding dress? I just love it. And the best part, it's only $73! The bonus part, click on the photo to see how you can add a slip for a different look, a pop of color, or a lengthening addition.
This dress has got an awesome '50s style to it. And it comes in 16 different colors and it's less than $65!
This gothic dream of a dark red dress has a hot corset back and beautiful gathering on the skirt. It comes in 13 different colors. This dress is usually $150, but it's on sale right now for $89.99!
This dress is a steal at $75! There are so many cool details — cream floral lace overlay, cute capped sleeves, faux-pearl-centered flower on the black sash, plunge-backed — I die!
This dress is $89. But mostly I'm showing it off because HOLY HELL, how cool is that socks and dress combo!?
Ooh guys, I think this one is my favorite so far — it's metallic, it's strapless, with a chiffon drop back overlay! I want to wear this all the time. It's also $69.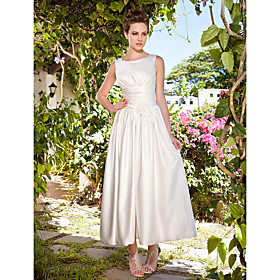 Loooooove thiiiiiiis dressssss. It's like 1950s reproduction heaven! I would probably wear this dress all the freaking time.
Let's think outside dresses for a second and take a gander at the Tinsel Town skirt from Shabby Apple for $62! Wear a pair of brightly colored shoes with this and submit your wedding to us to profile ASAP. You'd be in(ternet)famous from the first wedding porn peak!
I'm featuring this one in red — all the better to show you the pretty bling! But this dress also comes in eleven different colors and comes in plus sizes, all for $98!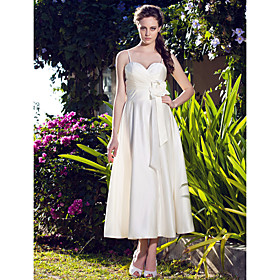 I would love to see
this dress
at a sweet picnic or garden wedding on a gorgeous spring day. Awww. And all that pretty wedding goodness for just $99!
I will always have a soft spot in my heart for hippie dresses and
this one
is a dream as far as hippie wedding dresses go, and it's on sale for $32!
This big poofy wedding gown of fabulousness comes in white or ivory and it's currently on sale for only $93! That's a LOT of dress for the dough!
Of course, more minds are better than one… So, if you've got a wedding dress find for under $100, leave it in the comments!