While my sweetie and I DO want to exchange rings, we DON'T want to spend a lot of money on them, and we have no interest in traditional, mainstream wedding rings.

We want something simple, and different.

We live in a town that doesn't have anything like that, so online is our best bet.

But once we start looking around for wedding bands, all we find are expensive, boring, overly-decadent gold and diamond style rings…

There's just too much online to know where to start! -Sara
I applaud your decision to go the non-diamond, inexpensive route for your wedding rings!
Diamonds are grossly overpriced, and of course there's that whole blood diamond thing, so you're so much better off going for either a different stone or no stone at all.
First things first: are you SURE there aren't any custom jewelry makers in your neck of the woods?
There's nothing more awesome than designing your own bands, and if you find a good jewelry maker they can usually work within your budget.
Plus, it's cool to support a local artisan.
That said, if there really aren't any around, you're right: there are TONS of online options. We feature tons of our favorites in the Offbeat Bride Vendor Guide!
Here's a first tip: Don't look for "wedding rings" — they always cost more! There's this strange phenomenon of somehow if it has to do with a wedding it costs twice as much. Seriously. This isn't just for rings, it's for dresses, flowers, suits, chair rentals,
everything
. It's a total racket.
So when shopping online for rings, don't search for "wedding bands." Just look for rings that you like.
Here are a few of our favorite non-traditional wedding rings:
As always with posts like this, CLICK THE PICTURES to learn more about a product!
Non-diamond rings

It's a diamond. But it's black. LIKE MY HEART.
Screw diamonds completely and go with black onyx.

Rubies are red, tanzanite is blue, this ruby ring costs less than $400 and has awesome vintage detailing, I love you.

Purty garnet in white gold. less than $200! Double aww.

This Citrine & Peridot ring doesn't care about your wedding ring conventions. This ring is like "No, I don't look like a wedding ring, thank you very much. I look awesome. Bugger off!"

Did you even know yellow sapphires existed? Now you do.

This oval peridot ring is only $200! Plus, it's from Turtle Love Co, so you know it's ethical and awesome.

Ooh, it's blue topaz. Ooh, it's big. Ooh, it's very, very affordable.

Tanzanite is that kind of blue that makes you want to go sailing or explore space or something. It's not just blue, it's like BRAIN-BLOWING BLUE.

This amethyst is all "Yeah, I could STOMP a 2 carat diamond in my sleep. Look into my purple eye. You are powerless against me. You love me. I am less than $160!"

Repeat after me: PINK TOURMALINE! Awesome square cut. Love!

This ring might look like a diamond, but it's Moissanite! One offbeat bride described moissonite this way: "Moissanite is shiner than diamonds, but they're made in a lab in the USA, so it's greener, ethical, and uh …patriotic?" I would add, cheaper!

Men's rings
Tungstun! Titanium! Trees! Threes! For Offbeat Brides who want to get down on one knee and propose to HIM.


I love the simplicity of this black Tungsten Carbide ring. The grooves give it a modern twist, and Tungsten Carbide is an awesome material — denser than steel or titanium! It's also super affordable: this ring's only $40!

EVERYONE loves Brent and Jess'
rings custom-made with the finger-print of your beloved. We featured 'em on Offbeat Bride a few months ago and shit went crazy viral. No wonder why — they're awesome.

This "screw love" ring is so cheap that it's clearly not meant for a lifetime of wear, but it's a cute way to say "Let's screw for the rest of our lives!" Aww.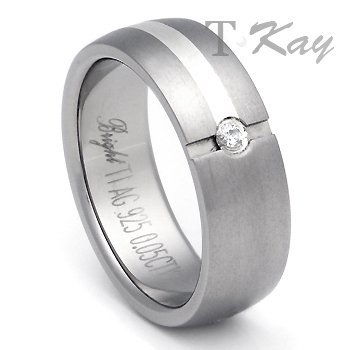 Who says only girls want engagement rings with bling? This titanium ring features little diamonds for that masculine bling action, and the asymmetrical silver inlay is hawt. Plus, it's less than $60.
The Tree of Life Wedding Ring is a longtime Offbeat favorite. It's a little eco/hippie while also being totally classy and timeless.

You'll find even more non-sucky wedding bands over here!